A small sample of Solarsteinn's projects
Development of Robot for Tube Creep Inspection in Gas Reformer Service
Evaluating Creep damage in primary reformer tube arise as critical monitoring task using Non Destructive Evaluation tools. Solarsteinn is developing a robotized system capable of take OD diameter measurements (using laser micrometer sensor), perform high penetration eddy current system, and capable of X Ray inspection of tube to tube weld connection (empty tube condition, catalyst removed during renewal process).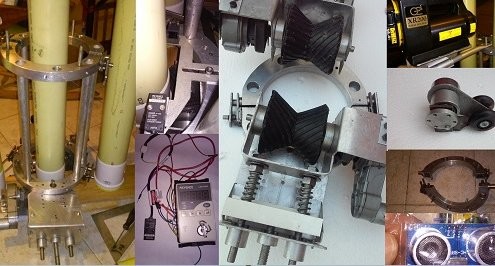 Developing Online Valve Testing System
Solarsteinn is developing an online safety and relief valve testing that include: small size hydraulic power unit, hydraulic cilinder, load cell, arduino based control & data adquisition system, spindle displacement sensor and acoustic sensor. Currently in the assembly stage for test and improvements. Designed for test valves under normal operating conditions this system apply a force to the valve spindle to overcome the spring tension on the valve. Using this equipment is possible to evaluate the set pressure.